Regular price
Sale price
$18.00 USD
Unit price
per
Sale
Sold out
Experience the power of a flip knife tattoo without the commitment! Our 3x6" semi-permanent tattoos last up to two weeks so you can get creative - experiment with different styles and placements without any worry. Express yourself without breaking the bank!
View full details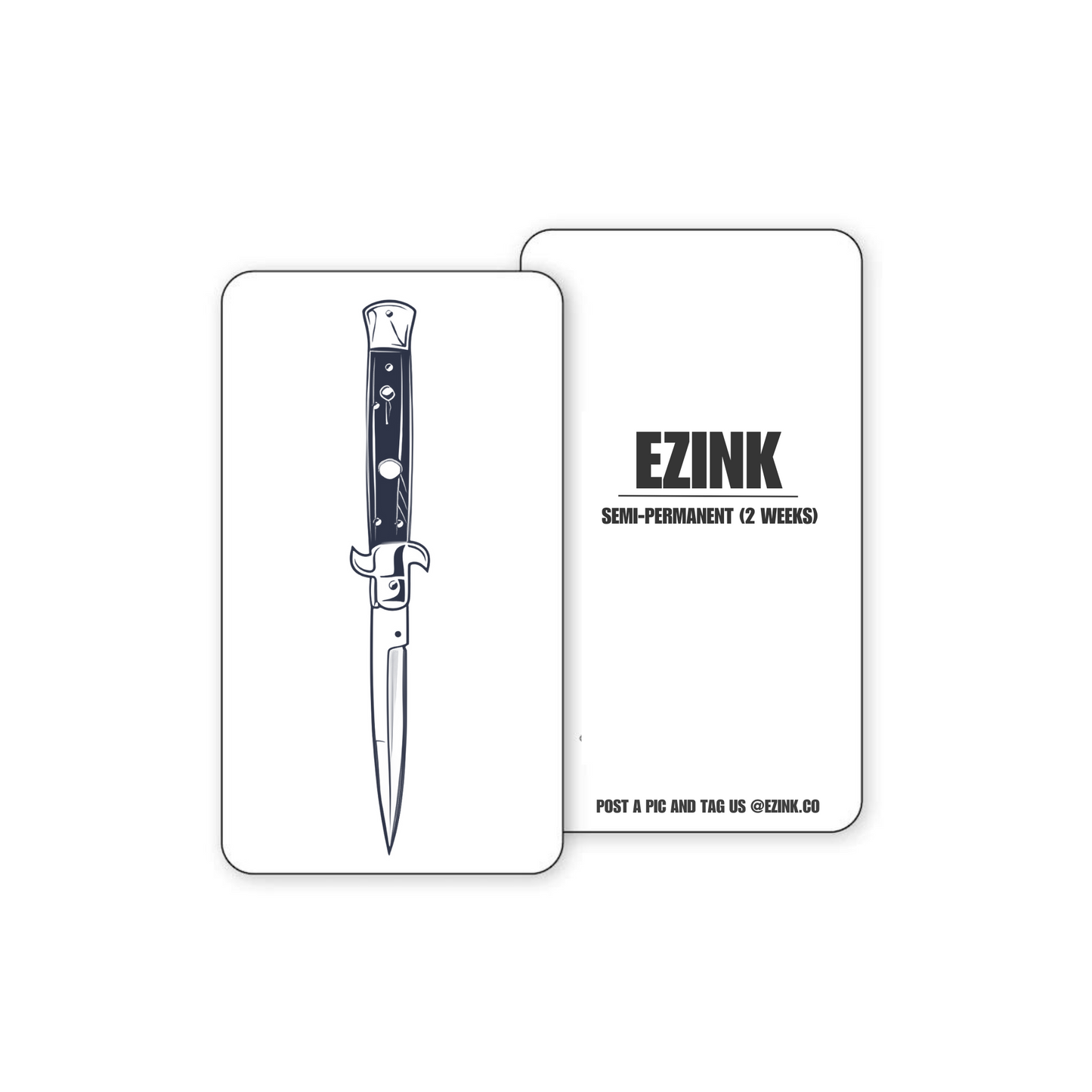 FAQ's
Kit Includes

Primer wipe
Tattoos with organic EZINK™
Easy to follow instructions
How long will my EzInk tattoo last?

Your EzInk temporary tattoo will last 3-7 days. The lifetime of your temporary tattoo also depends on placement, how well you apply it and what you get up to every day.

Your EzInk semi-permanent tattoo will last up to 14 days. 
Temporary vs Semi-Permanent

Temporary:

- Lasts 3-7 days (on average)

- Appears instantly

- Full colour available

- Looks like a fresh tattoo (very dark)

Semi-Permanent:

- Develops over 24-48 hours

- Lasts up to 2 weeks (or more)

- Gradually fades as the skin regenerates itself naturally

- Looks like a healed tattoo

*only our semi permanent range comes with a primer wipe
Are they safe?

EzInk uses safe tattoo transfer papers compliant with Australian Standards AS/NZS ISO 8124.3:2003, we utilise high-tech digital printing technology to produce high image quality and a long-lasting transfer. So are EzInks tattoos safe and good quality? YES!
Let customers speak for us