TODAY'S FREE DESIGN
Enter code "GIFT" at checkout to make this design 100% free!
Eagle's Prey Pack
Regular price
$31.00 USD
Sale price
$24.00 USD
Unit price
per
Sale
Sold out
View full details
Tattoo Packs
Tattoo packs are the best way for you to test your new look. There's no guesswork, we've compiled our best designs into collections for your convenience… all while saving up to 40%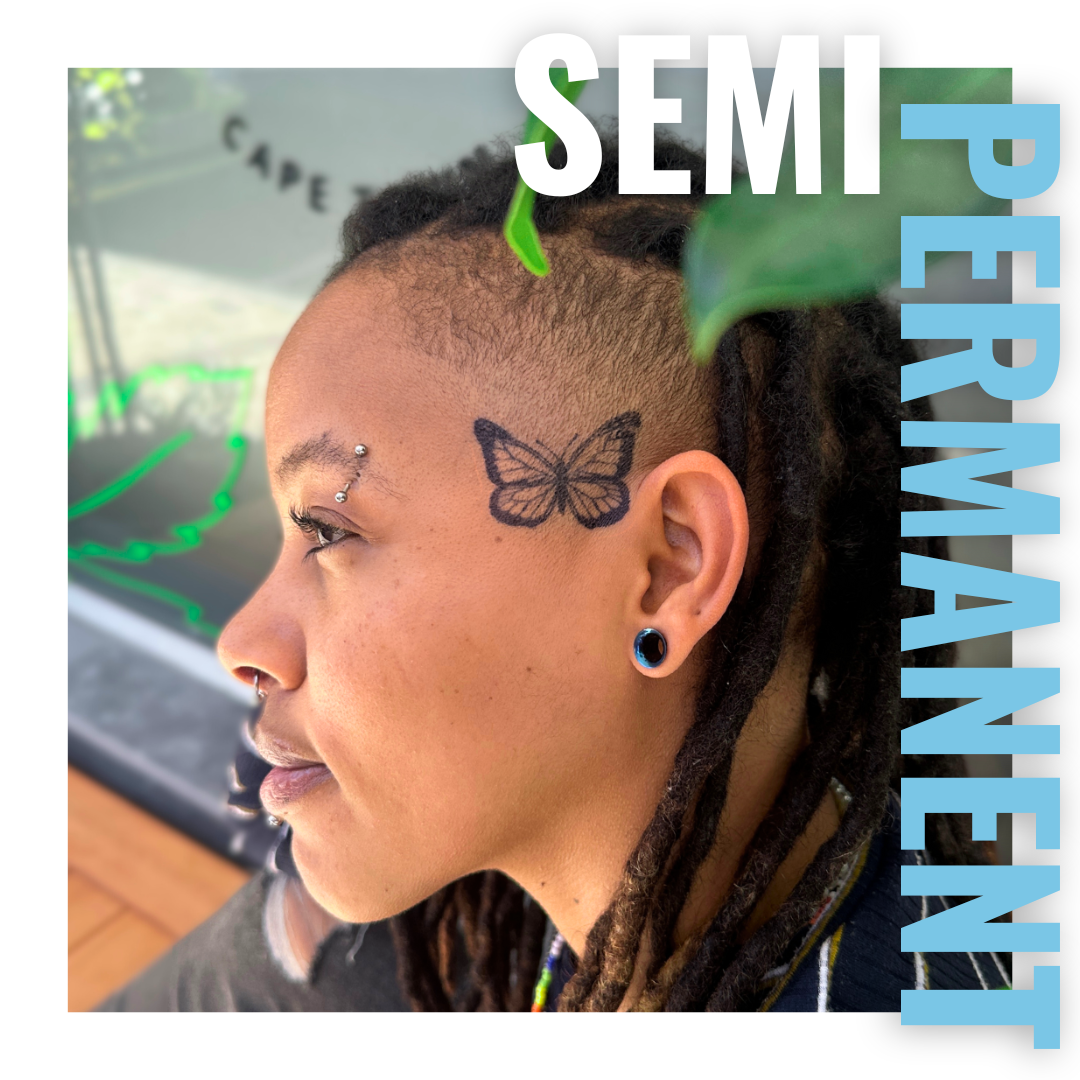 Our newest, higher quality and longer lasting non-permanent tattoos, semi-permanent tattoos.
Made from an organic ink that sinks into the first layer of the skin, these tattoos last for up to 2 weeks, looking and feeling identical to a permanent tattoo.
These tattoos provide the true EZINK experience.
SHOP NOW
Semi-Permanent Tattoos
Lasts 1-2 Weeks | 100% Vegan & Organic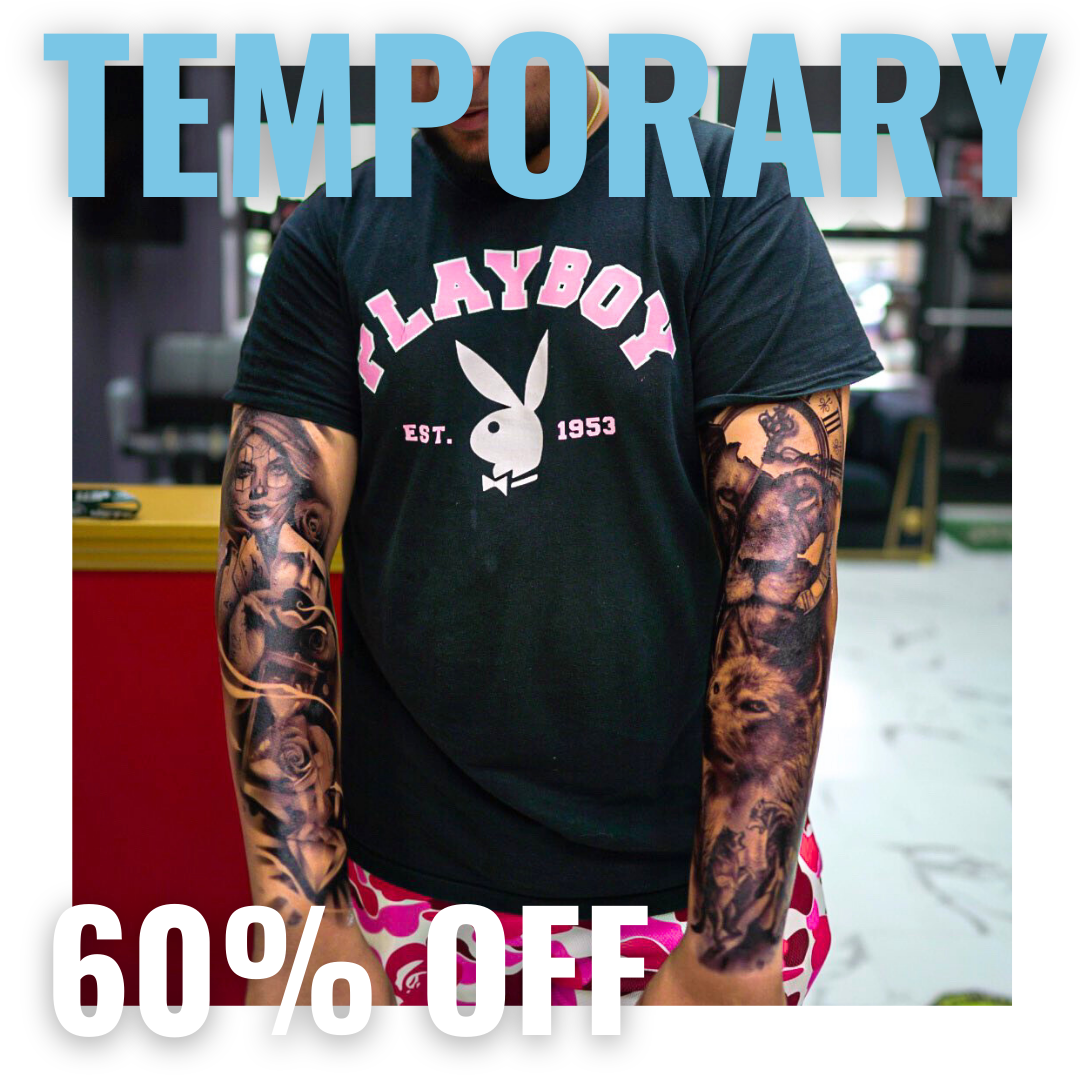 Our first ever type of non-permanent tattoo, our temporary range gives a hint of nostalgia with a classic stick-on tattoo experience.
They're an easy way to test the look of an art piece for a very short period (3-6 days) by simply sticking on top of the skin.
SHOP 60% OFF
Temporary Tattoos
Lasts 3-6 Days | 100% Vegan & Organic
How To Apply

STEP 1
---
Shave and then prime the desired area using the primer wipe provided. Ensure area is dry before proceeding to step two.

STEP 2
---
Carefully peel off the clear film from your tattoo, ensure not to come in contact with the inked portions of the designs.

STEP 3
---
Place the tattoo sticky side down (EZINK side up). Gently apply pressure with a damp cloth until tattoo is fully saturated.

STEP 4
---
Slowly and carefully peel off the paper back, ensuring parts of the tattoo remain adhered to the skin. Your tattoo will start off clear then will darken over the next 48 hours.
Shop Instagram
Get inspired by other tattoo enthusiasts in the community. Tag us on instagram or tiktok @ezink.co for a chance to be featured!
Let customers speak for us
Frequently Asked Questions
Semi-Permanent:
- Lasts 1-2 weeks (depending on size, placement & daily activity)
- Darkens over 24-48 hours
- Steadily fades as the skin begins to regenerate
- Resembles a healed tattoo
Temporary:
- Lasts 3-7 days
- No developing time (shows instantly)
- Can be removed at any time
- Sits on the top layer of the skin (like a sticker)
Absolutely, EZINK is safe. EZINK uses safe tattoo transfer papers compliant with Australian Standards AS/NZS ISO 8124.3:2003.
Our non-permanent tattoos utilize plant-based inks, which are 100% organic and vegan. The temporary tattoos feature soy-based inks, while the semi-permanent ones are derived from fruit.
Don't worry, all of our products have been tested to ensure that they meet the cosmetic regulatory requirements.
If you experience any form of physical discomfort or irritability as a result of our tattoos, please email hello@ezink.co and get in touch with a medical professional.
Your EZINK semi-permanent tattoo will last up to 14 days. 
Your EZINK temporary tattoo will last 3-7 days. 
The lifetime of your tattoos depends on size, placement, application and daily activity. Here are some tips to make your tattoo last longer:
1. Ensure you have a clean canvas before applying, this may involve shaving and showering!
2. Avoid hot water as this can melt the adhesive causing your tattoo to have a shorter life.
It is important to check what type of tattoo you purchased. EZINK Temporary Tattoos last 3-7 days whereas semi-permanent tattoos last up to 2 weeks.
If you experienced premature fading with your EZINK Semi-Permanent Tattoo please send us an email at hello@ezink.co
Nope, EZINK's non-permanent tattoos do not expire! However, we do recommend that you store your tattoos in a cool & dry area.
Standard Postage:
NSW: Up to 2 - 5 Business days
Other States: 4 - 8 Business days

Express Postage:
NSW: Up to 1-3 Business days
Other States: 2-5 Business days
Standard Postage: 4-7 business days
Express Postage: 2-4 business days
2-Day Postage: 1-2 business days
Standard Postage: 4-9 business days
Economy International: 6-12 business days
Standard International: 5-9 business days
We want to make sure you love our tattoos as much as we do! If for any reason you're not satisfied with your order, please email us at hello@ezink.co
To remove your EZINK temporary tattoo, try one of these methods:
1. Apply some baby oil and wash off, or, wipe with an alcohol swab.
2. Use some body wash, a sponge loofah or cloth and scrub scrub scrub! (please, not too hard)
3: Use scotch tape to peel off the tattoo (watch our video on TikTok to see how) *we only advise doing this if you are hairless*
To remove your semi-permanent tattoo:
As our semi-permanent tattoos sink into the first layer of the skin, there is no way to take it off prematurely. Your tattoo will begin to naturally fade away as the skin cells begin to regenerate (occurs after roughly 1-2 weeks), once this occurs, you can begin to GENTLY scrub off your tattoo. 
We always recommend consulting your doctor/specialist before using if pregnant or breastfeeding.
We ship to:
-USA
-Australia
-United Kingdom
-Canada
-Ireland
-Belgium
-Croatia
-Denmark
-Estonia
-France
-Germany
-Hong Kong
-Hungary
-India
-Israel
-Japan
-Korea
-Lithuania
-Malaysia
-Malta
-Netherlands
-New Zealand
-Philippines
-Poland
-Portugal
-Singapore
-Slovenia
-Spain
-Sweden
-Switzerland
-Taiwan
-Thailand
-Vietnam